The new Loftenna is just 6m in total length...yet it covers ALL HF bands!
photos coming soon...
An horizontal, no-tangle antenna designed for lofts. Top band to 10m, all mode, all rigs, most ATUs. The aerial comes fully built...just stretch it, tie it, use it!
Small space horizontal...
Short of space? A 6m long antenna with inbuilt unun capable of 100 watts. The unun is in a bespoke design case, yellow for visibility in the loft and is fastened to the antenna support.
Attics...roof spaces...tree houses.
Tree houses? Sure! Why not? At just 6m long this aerial fits so many spaces. The antenna is light...two bridles allow easy mounting to anchor points. Bridles are bright yellow cord for visibility in the loft.
Most man made QRM is vertical. Vertical aerials are very noisy...or so the thinking goes. This new antenna from Bantenna is horizontal. We have utilised an old folded monopole design for compact use of as much wire as possible.
The new Loftenna is SPECIFICALLY designed to fit into lofts and attics...fit and forget. The unun is built into the aerial so you rig it, add the coax, close the hatch and forget it! It comes with a set of counterpoises and all plugs are fitted. The counterpoises do not need stretching out if you cant do that.
The now Loftenna is capable of 100 watts all day long, all bands Topband to 6m. You will need a tuner for this aerial, but like all Bantenna aerials, modern aerials for modern rigs. If you CAN fit a full size G5RV into your loft, why are you reading this??? The test units have all succesfuly loaded on all bands including 5Mhz and 10Mhz.
Small lofts and attics no longer need a rats nest of wire...fit a Bantenna Loftenna and be done with it. Loftenna is a closed loop folded monopole antenna. It has counterpoises for you to fit if you want to. The antenna is fitted with a suspension cord so all you need are two anchor points about 6 .5m apart minimum between which you stretch the cord. The antenna erects itself. You add the counterpoises using the simple eye fitted and then add your coax via the SO239 socket. Nip back to the shack and work the world!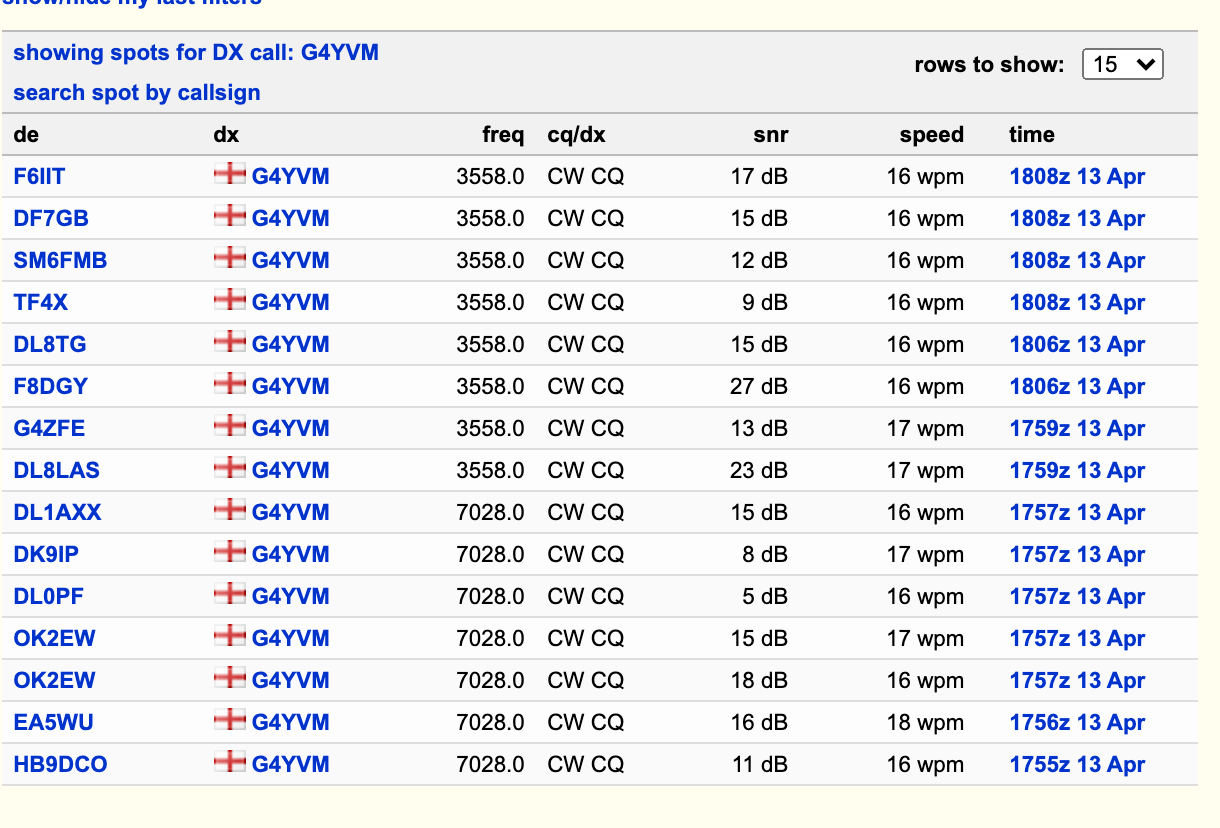 The screen shot to the left shows my RBN results this evening. The new loftenna is taking some developing but I seem to have it sorted now and I am REALLY excited by it. Using it I also just worked DL3NAA on 40m (he was QRP, 5 watts) and G4LHI on 80m...sadly we lost each other in QSB before a final flurry to say 73, then he had to QSY due to noise. I think 80m and 40m on an aerial about 6m long is good.
Ive had a few folks ask if they can buy to test these aerials. The answer is 'yes' of course, just let me finalise the design. Integral to this is the unun and thats being finished now. I'm not reinventing physics of course, just making 'em work for us!